Specification
Type
Maximum Voltage
Maximum power
Environmental temperature
Spectrumpeak value
Light resistance(10Lux)(KΩ)
Dark resistance(MΩ)
Response time(ms)
Illuminance resistance characteristic
Increase
Decrease
D57series
D5717
150
90
-30~ +70
540
5- 10
0.5
0.5
30
30
2
D5727
150
100
-30~ +70
540
10- 20
1
0.6
20
30
3
D5738-1
150
100
-30~ +70
540
20- 30
2
0.6
20
30
4
D5738-2
150
100
-30~ +70
540
30- 50
3
0.7
20
30
4
D5739
150
100
-30~ +70
540
50- 100
5
0.8
20
30
5
D5749
150
100
-30~ +70
540
100- 200
10
0.9
20
30
6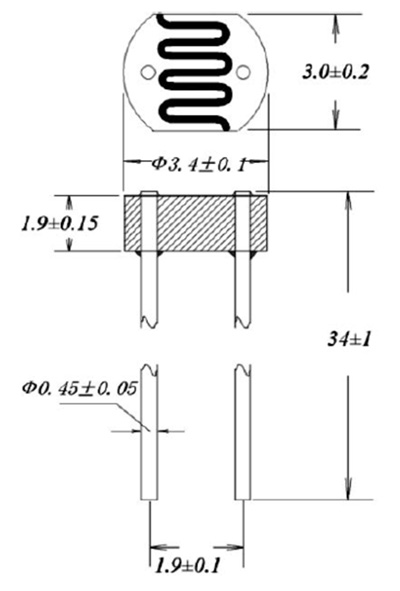 Applications
Camera automation photometry
Photoelectric control
Indoor sunlight control
Annunciator
Industrial control
Optical control switch
FAQ
What is the testing conditions?
Max external voltage: Maximum voltage to be continuously given to component in the dark.
Max power consumption: Maximum power at the environmental temperature 25℃.
Light resistance Irradiate by 400-600Lux light for two hours, then test with 10Lux under standard light source A(as colour temperature 2856K).
Dark resistance Refer to the resistance value ten seconds after the 10Lux light is shut up.